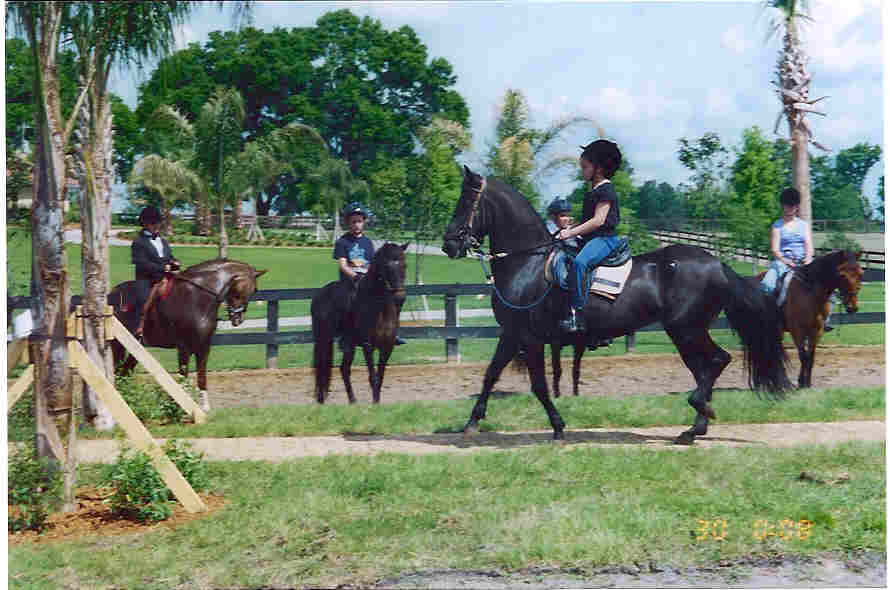 Julieta Suarez, one of our terrific youth riders!
Many, many thanks to Jaime Suarez for allowing SRPFHA to use his beautiful farm for the fun show!!! The weather cooperated and at 8am when we opened the gate and put out our sign, the trailers started pouring in. We had exhibitors from as far as Jacksonville, Plant City, Wesley Chapel, and Tallahassee. The classes were well attended, Liz Morales was up to snuff with her beautiful and enthusiastic announcing, Frank Lee had the ring totally under control,and our judges were wonderful. Trailers continued to pour in even after the lunch break and we had a great crowd. Myrna provided a delicious lunch (the chicken shishka bobs were outrageous!). Of course, the highlight was seeing the little ones handling those horses, especially the fino horses. They were sooo adorable. We look forward to our game day in August and the next fun show in October. "This is the third year since SR started incorporating the "Fun Show" as part of our activities for members. There seemed to be a need for this type of show for members that showed and those that never had. Some have moved on to the "real" show arena, but some choose to stay and play with the rest of us. A few of us take this little show very seriously, while others like to relax and have fun.....taking everything in stride....and creating a few strides of our own. Whichever you are, we are happy you enjoy the fun shows and SR will continue to have at least two a year, fall and spring. The only problem we face is getting volunteers to run the shows. The same people are asked over and over... ..remembering these volunteers also would like to bring their horses to participate. Believe me, I know, it is very hard to bring a horse or two to ride and try to work the show. Without help it is impossible. So please, send us your advice and your time. Many thanks to the volunteers at the 4 Js fun show - Bob Levinson who spinned tunes for us all day.....Frank Lee who ran his butt off, again, as ringmaster....Betsy Bowen, Pauline Piazza, and Dee Raymond at the registration table..Richard Raymond at the gate....Sid Chadeusz who tried to set up a raffle....(next time Sid). Judy and Harry Wyckoff for doing ribbons in the morning and Cindy Oelrich in the afternoon. Linda Levinson for bringing donuts and getting La Quinta Inn to give us a free night's stay that went to the oldest horse/rider combo......Myrna Conde had a wonderful food concession prepared....thanks Myrna for doing this. This is a very long day for these people and they deserve a VERY big hand. A special big thanks to our judges who donated their time to this event, Javier Suarez and David Castro. Last but not least, thank you so much to Jaime Suarez and his family for allowing us to use their beautiful farm for this event. Without these people, this would not have not taken place. Last but not least, thank God for the beautiful weather, great friends, new friendships, until we meet again!! June Lee "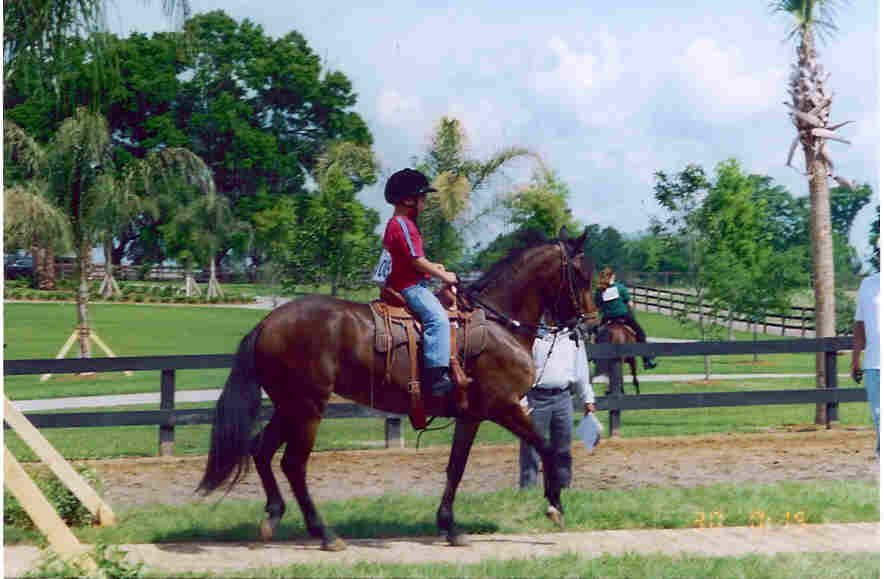 Jaime Suarez, Jr. showing the youth how to do it!