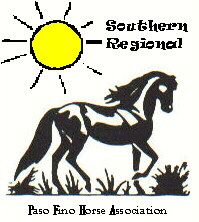 Paso fino translate to "fine step"

Congratulations to all participants and volunteers who helped make the March Fun Show such a success. The turn out was excellent. Keep looking for information on the next Southern Regional hosted Paso Fino event in our newsletter and on this website calendar.


The March 23rd Fun Show was wonderful. Great Weather, good food, and terrific Paso's and best of all marvelous people. Thanks to all the participants, you were outstanding.

If you were not able (or were unaware of) the March Fun Show hosted by Fiddleleaf Farm, you really missed something. We had a BLAST! There were a lot of people involved in putting together and running this not so little fun show and they did a fantastic job. THANK YOU! The participation was beyond expectation and everyone got something out of it. The afternoon was concluded by a series of games - a great way to build confidence and communication in you and your horse.
There are myramid of activities for the Paso Fino

click on logo to go to events