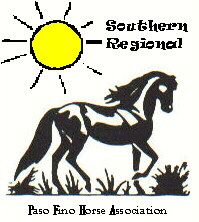 The Fun Show is a wonderful learning experience available to all Paso Fino horse owners and riders regardless of your skill level. An affordable or free, way to participate, improve your showing skills and enjoy the company of other Paso Fino Owners.
The entry fee a Fun show is FREE to all Southern Regional Members.




ATTENTION: ATTENTION :ATTENTION

SRPFHA board is considering changing our name to reflect out true geograpic identity. HOW do you, the general membership feel about this issue????please e-mail SRPFHA president, Darby Wulff with your vote and suggestions, also if you have a name in mind, you think would reflect our geograpic location let her know, also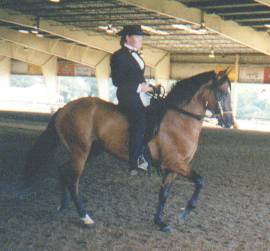 EXTRAVAGANZA
This year the Extravaganza Show of Southern Regional PFHA is introducing a new theme, "Cosa Caliente", which translates in acceptable Spanish slang to,"Hot Stuff". This is our largest and most elaborate show and we want all members to feels that they are participating, whether they are showing, observing or volunteering. Once again, we need volunteers for decorating, SR booth maintenance , passing out ribbons, errands, ect. Contact
Prissy
(386)467-3779, email: prissyfilly@aol.com, if you would like to sign up for a time slot in the SR booth or the ribbons booth.
Darby (352)245-5887 or jacksonwulff@aol.com for all other areas. Just call , we'll find a spot for you. Prissy will be at the June 15th meeting with a sign-up sheet so come with your pencils.
Southern Regional will be sponsoring a raffle to JLM's Jaranero........2001 Internation Champion, Ponce, PR and 2001 Grand National Champion Fino Stallion....Many thanks to Barb Perich of Fantasy Paso Finos for donating this breeding. Cost of tickets are $2/each or 15 for $20. Raffle tickets will be available at the Southern Regional Booth at the May Day Show at OEC in Ocala on May 4 and 5, 2002. Drawing to be held on Sunday, August 4 at Extravaganza Show in Ocala.
June Lee
Show Committee
The Southern Regional Paso Fino Gymkhana Fun Show held Saturday March 23, at Fiddleleaf Farms,
was a big success. Many members and new members attended and stated it was the most fun they've had with their horses.
Gaming was held all day long, with fun for all ages
Pole Bending..Barrel Racing...Easter Egg Race..Keyhole..Relay Races...were among the games played.
Many thanks to Roseanne Wilson of Cross Creek Paso Finos, who supplied the hot dogs for the day. They went fast...under the directions of Sid and other helpers..all great cooks. Carol Kilburn was reliable and efficient once again at registration and timing. We absolutely could not of had a great day without her help. Clayton and Sue Harris, thanks for the help at the gate and classes, again. None of this could of happen without the volunteers. Thanks to all, but most importantly a big Thanks to Mike and Cathie Seimer for their hospitality. Allowing us once again , to use FiddleLeaf Farms for our Fun in the Sun Day
The next Fun Show will be the "Halloween" show. It will be a non-pointed show with a "COSTUME CONTEST"
You will need to bring Lawn chairs and Lunch, Current negative coggins, buckets for water, helmets for children under 12. (We suggest everyone wear a helmet) and riding shoes with heels.
The next newletter will have more info for this fun show.
Anyone wishing to help out, we need more hands, even if its just and hour or two please get in touch or if you have any suggestion for improving or adding to the FUN DAYS ,contact June
ATTENTION ATTENTION ATTENTION
We have decided to add a new class to our fun show;
Hold onto your hat now cause this class is going to cost you MONEY
BUT
it is going to be a JACKPOT CLASS
Here are the rules......
this will be for the amauter owners
with NO training on their horses or themselves for a minimum of 3
months.
We have not decided what the cost for the classes will be or what if any other rules there will be BUT we are open to suggestions so
email me with any ideas you have
Reserve the date Oct. 26 th
Contact: June Lee @ 352-245-5687
or e-mail DelViento@aol.com
You may contact These #'s Show day for Directions if lost 352-812-6986 or 352-245-1817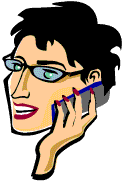 let me know what you think!!!!!